Today on the blog we have Ren from A little bit of R n R.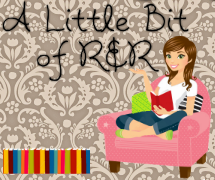 This is Ren, say Hi to Ren Friends.

So without further ado...it's Ren Reidy, bitch.
LP: Why did you decide to start book blogging?
Ren: At the time, I was reading 3-4 books a week. I have such a love for books that I felt the need to share them with the reading community. I didn't even care if anyone read them. I just wanted to get them out there. I blog mostly about indie authors. I feel like they need the exposure and I'm more than happy to give that to them.
LP: What is your favorite part about book blogging?
Ren: I kinda answered that in my previous answer lol
Ren: DEADLINES!! I actually like to call the dreadlines. I've since stopped taking on reviews for tours because it puts my reading on a time frame. I hate that.
LP: Do you listen to music while blogging?
Ren: Sometimes. I usually only blog at night when the little one is sleeping so I can't have the music on without headphones. I like to listen to Hunter Hayes sometimes :0)
LP: Who are your book blogging icons?
Ren: Besides you? Lets see... Parajunkee was my first bloggin icon. I like Fiktshun, Stuck in YA Books, I Love YA Books, Always YA at Heart and some others that I can't remember right now.
Ren: I used to. I've had such terrible writers block for about 10 years...no joke. It's pathetic.
LP: Do you have a favorite piece of swag?
Ren: I actually won this cool messenger bag from D.T. Dyllin. It has the logo for the P.J. Stone The Gates Trilogy. I loved the first book!
LP: Reese's pieces or M&M's in your popcorn?
Ren:Well first of all, candy does not go in popcorn! Is that what you Northwesterners do? EW! I love popcorn and Reese's pieces but never together. That's just foul. Shame on you!
LP: I should note. That I am a midwesterner. Iowa Represent. FTR it's peanut butter M&M's. That was the correct answer. LOL.
LP: How do you feel about the color puce?
Ren: Is that a rhetorical question? You know damn well that it's my favorite color. I use it quite often as my font color on the blog. Plus my links are that color.
LP: What are you favorite genre's to read?
Ren: Young Adult, New Adult and Adult. As long as they're Paranormal Romance, Contemporary Romance, or Dystopian. I always have to have some kinda romance.
LP: Any advice for new book bloggers?
Ren: hmmmmm find a review style that works for you. I see so many and I just like to tell you how I feel about it. I'm not a professional critic. Also have a catchy blog layout. I hate that pre-made stuff and went to Ishita at The Reading Fish for my blog design. They can be quite pricey so she was cheap, efficient and damn I love my layout. :-)